CASE STUDY
Wealth advisory firm cuts costs and doubles fees for some clients
The Challenge
CS Wealth Advisors (CSWA) is a Sydney-based accounting and wealth advisory practice. Most of the investment decisions were being carried out by the firm's principal, Kim. He felt increasingly overextended as the mounting investment work increasingly drained his limited time.
Kim felt ever more burdened by the responsibility of delivering the quality investment returns the firm wanted to provide for their growing client base. Asked what would have happened if the firm had not found a solution, Kim said "I would not have any life and I would have let down my other responsibilities to the firm"
The investment program the firm had in place was not optimal in any case. Clients wanted transparency with their investments which they did not get with the managed funds the firm was using. In Kim's words, "managed funds had created more problems than they solved". Older age clients in particular wanted a portfolio they could identify with.
The Solution
Partnering with AssureInvest allowed CSWA to boost significantly the efficiency of their business. The research and administrative burden is substantially reduced now that much of the work was being carried out by the investment specialist.
The problem of the heavy reliance on the practice principal for investment decisions has been resolved. Instead, more time is freed up for oversight, managing internal resources and growing the customer base.
CSWA now has a competitive edge over rivals. It can offer a better risk return than other wealth advisors. CSWA staff have greater confidence when they are advising clients that they have the best offering. They have ultimate flexibility to alter portfolios to suit each of their clients' specific needs.
CSWA created significant value for their business and their clients
Increased pricing power
The shift away from managed funds along with the more trustworthy investment process and lower product costs have resulted in higher fees for CSWA, doubling in the case of investors with funds of $200,000 or more.
Saving of investment resources
Time spent on investment research and portfolio construction both fell by around 80%. Time spent monitoring investments fell almost 30%.
Better client outcomes
There are better investment results for clients. Client portfolios are better diversified and the firm is better placed to take opportunities to tactically shift portfolio weights. CSWA is comforted by institutional-level due diligence and superior tax management for clients.
HOURS PER WEEK SAVED BY INVESTMENT OUTSOURCING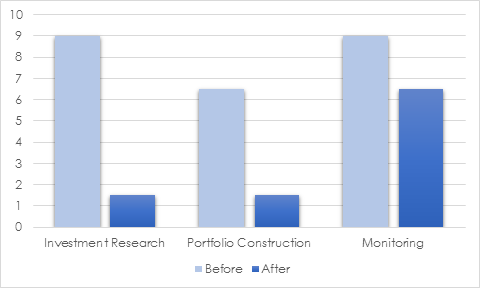 We create business efficiency and empower you to boost value to your clients.